Many people are familiar with the beautiful work of Nora Blansett as photographer, illustrator and jewelry craftswoman! Her website is full of her creations:
Borealis Ar

t
What some people may not be as familiar with is her love for her beautiful four-legged family members, Pixie, Angel and Chili Bean. And this is the reason for the post.
Pixie, Nora's 7-yr old precious Chihuahua is in trouble. Pixie has cancer and needs surgery.
There is a
Save Pixie Facebook Page
set up for Pixie where other artist have come to donate their special talents for an auction to help raise the $1200 for the surgery needed.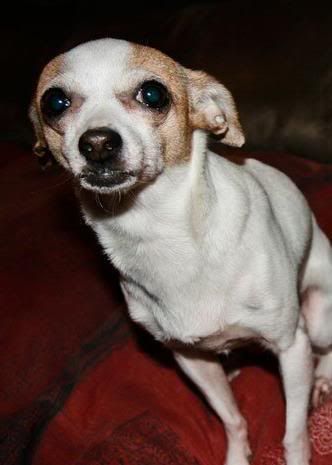 You can also find out more by visiting the
Borealis Art
page on Facebook..
If you are an artist and /or an animal lover and want to donate a creation to help in raising the funds for Pixie, please stop over at either page. If you are uncomfortable using Facebook, as some people are, you can alway
contact Nora
via her website.
If you are not an artist but want to support the cause by bidding on an item or just by making a donation, you should drop by the page on Facebook. Not only will you be assisting with the wonderful cause of saving Pixie, you will be participating in spreading the word about and supporting many great independent artist.
By using any item from this Blog, you agree to the TOU.